White Rose
Eau de Toilette
Meet the new bloom, confident and modern, self-assured and warm, an elegant contradiction of silk and spice
Regular price
Sale price
$128.50
Unit price
per
Sale
Sold out
Add to Wishlist
Your wishlist has been temporarily saved. Please log in to save it permanently.
Share
Find a Stockist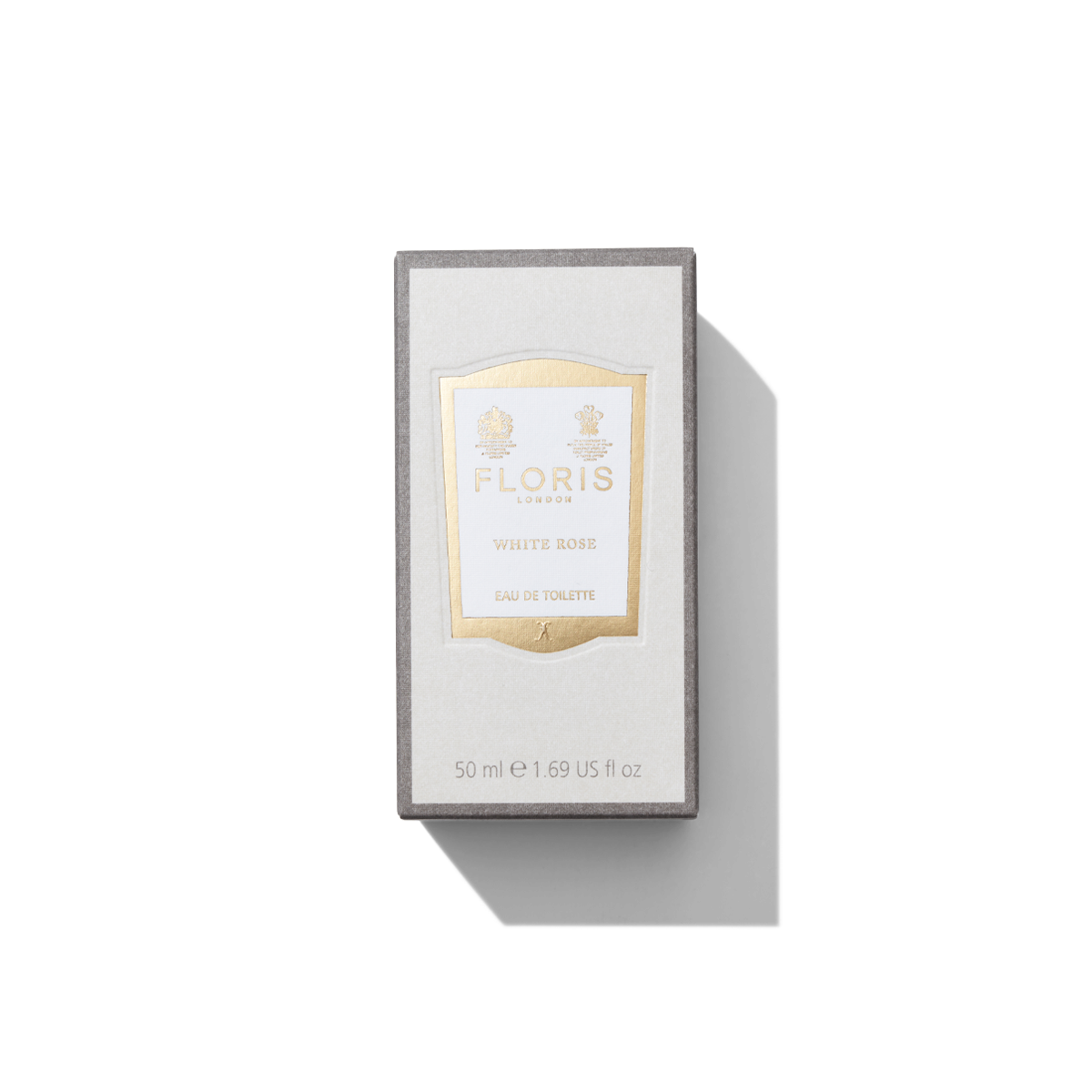 Meet the new bloom, confident and modern, self-assured and warm, an elegant contradiction of silk and spice. Discover a bouquet of velvet roses, sparkling with an unexpected splash of cool iris, wrapped in warm amber and rich, earthy musk. Uncover a story of contrasts –the old world and the new, the perfect with the imperfect, drama and poise, town and country.

Drawing on the creative home of the Floris family, White Rose has its heart in London's Mayfair. Surrounded by beauty and art, fashion and architecture, the scene forms a natural backdrop for the scent's timeless vibrancy.

This Eau de Toilette is Vegan.
Fragrance Notes
Aldehydic | Carnation | Green
Iris | Rose | Jasmine | Violet
Amber | Musk | Powdery Notes
Originally created at the Jermyn Street shop by Mr John Floris in the early 1800s. Floris' White Rose fragrance was a favourite of Florence Nightingale, having bottles shipped out to her during her time in the Crimea war. A Letter from Florence is still on display and treasured in our Jermyn Street shop where she expresses her gratitude to Mr. Floris and her favourite fragrance White Rose.

Since 2020 Floris continues its partnership with the Florence Nightingale Foundation as a proud sponsor of their tremendous work, we at Floris are committed to donate 15% of all sales of White Rose Eau de Toilette 100ml. By Buying a bottle of White Rose you are helping to support nurses and midwives all around the UK.

"How am I to thank you for the repeated nosegays of beautiful sweet-smelling roses with which you have cheered my sick bed?" - Florence Nightingale

Floral

Moisturising bath & shower gel

A luxurious formulation that leaves skin cleansed, soft and lightly scented with a soft floral fragrance

Floral

Enriched body moisturiser

A light and easily absorbed moisturiser rich in nourishing tryglycerides which protect the skin against moisture loss

Floral

Luxury soaps

Three signature soaps, hand wrapped and triple milled with a vegetable base producing a rich creamy lather

Floral

Gift set

Containing added shea butter to help moisturise the skin, leaving it soft, smooth, and finely...
"Buying a white rose is a simple way to honour our nurses and midwives. We must never forget the sacrifice they make on an everyday basis during this time."
Helena Bonham Carter | Appeal Ambassador
Floral, Fruity

Eau de parfum

Cherry Blossom Intense Eau de Parfum is an expression of natural beauty and evokes thoughts of spring

Floral, Green

Eau de parfum

Tuberose in Silk is defined by fresh green tuberose, iris, orange flower and camphor top notes with intense tuberose and...

Floral

Eau de toilette

Meet the new bloom, confident and modern, self-assured and warm, an elegant contradiction of silk and spice