An enjoyable and unique perfume experience for two, our 'Together' Fragrance Customisation is a wonderful opportunity to create two completely bespoke fragrances. A gift for soon-to-be-newlyweds, for mother and daughter to share together or simply to celebrate a milestone occasion or trip, a Floris bespoke perfume is both a gift and experience to be treasured. 
A three hour appointment for two with a Floris perfumer at our original shop at 89 Jermyn Street, create your own individual and unique 100ml eau de parfums together in the secluded privacy of the Floris perfumery.
BOOK NOW | £950
A SIMPLE GUIDE
STEP 1

THE BESPOKE BOX

Prior to the session you will receive a beautifully presented gift box containing your engraved 100ml bottle, or ready to gift to the lucky recipient. We ask you to bring this bottle with you or you can collect from the shop on the day of your appointment.

STEP 2

THE PERFUMERY

Your olfactory journey will take place in our private perfumery behind the shop at 89 Jermyn Street. In this same room, nine generations of the Floris family have created fragrances dating back to the year 1730.

STEP 3

THE LEDGERS

By having your fragrance created by Floris, your custom fragrance formula will be securely archived in the Floris ledgers, started by our founder Juan Famenias Floris and dating back nearly 300 years, for you and your future generations to reorder.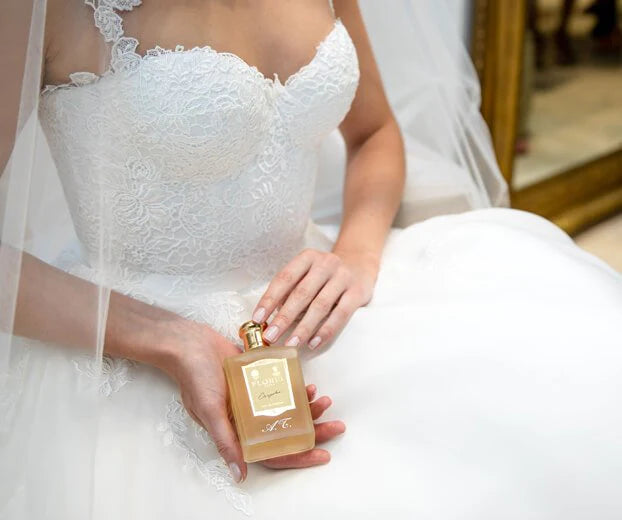 BESPOKE SCENTS
Your session will begin with our in-house perfumer providing a short overview of the company history while you both enjoy a glass of Pol Roger Champagne, or sip on a cup of tea or coffee. After this, you will begin by choosing from a wide selection of fine fragrance bases, slowly crafting your scents with the introduction of new accords to complement your taste until both of your custom fragrances are complete.
At the end of the session, your fragrances will be poured into the 100ml bottles you will have received and will be named by you both for you to take away after the appointment.
Wedding
On a day when everything should be opulent and memorable, it makes sense to choose a fragrance that is a little more special than your everyday scent. Scent has an amazing ability to capture memories, and these fragrances will remind you of those wonderful times for years to come.
The ideal gift for the newlyweds-to-be, or as a little luxury to yourselves ahead of the big day, take a time-out from the bustle of wedding planning to share in this unique opportunity to have a personalised scent made that is as fitted to you as your dress or suit.
Look to your floral bouquets for fragrance inspiration and feel free to bring along any photos or flowers with you that you know will feature on the day.
"THE ONLY FEELING THAT I CAN COMPARE IT TO WAS WHEN I SAW OUR WEDDING INVITATIONS PRINTED WITH OUR OWN NAMES ON IT. WHEN THEY'RE MADE FOR YOU AND HAVE THE NAMES OF THOSE YOU LOVE ON IT, IT MEANS SOMETHING DIFFERENT."
LAUREN BRYAN KNIGHT - ASPIRINGKENNEDY.COM
READY TO BOOK?
A unique opportunity to create a your own perfume here in the centre of London and learn about fragrance creation from the oldest privately owned family perfumers in Britain. There are a few ways in which you can book our Bespoke Fragrance Customisation experience.
BUY NOW

Purchase now and choose to book your appointment later, instructions on how to do so can be found in the gift box.

ADD TO BAG | £950.00

BUY NOW | CALL BACK

If you already know when you would like to book your appointment or want to find out our available dates, book now and request a call back.

ADD TO BAG | £950.00

CALL BACK

If you would like to find out more about our Bespoke services, request a call back from one of our friendly customer services team.

Request
MORE INFORMATION
ENGRAVING

Please allow an extra 3-10 days for delivery if you choose to have your bottle engraved.

TRAVEL SIZE

Add a travel size 50ml bottle of your bespoke scent for an additional £80.

REPLENISHMENT

Replenishment orders of your bespoke scent take up to 2 weeks and can be ordered online or over the phone.

TOGETHER

You are very welcome to be accompanied to your appointment by up to two guests.
BESPOKE FRAGRANCE EXPERIENCES
Booking for yourself and a loved one or looking for a wedding gift? Have you considered our 'Together' Bespoke Customisation, a chance to create two unique eau de parfums. Or for the complete fragrance experience, explore our Bespoke Perfume Design service.