A truly unique experience, an exclusive opportunity to design your own perfume, developed with our experienced perfumery team over three consultations and approximately six months.
Take the luxury of time to fully immerse yourself in the unique identities of our fragrances and use precious essential oils and floral essences gathered from around the world to create your own bespoke perfume, an exclusive and individual custom fragrance of which you will receive a total of six 100ml bottles. 
BOOK NOW | £5,000
A SIMPLE GUIDE
STEP 1

THE BESPOKE BOX

Prior to the session you will receive a beautifully presented gift box containing your engraved 100ml bottle, or ready to gift to the lucky recipient. We ask you to bring this bottle with you or you can collect from the shop on the day of your appointment.

STEP 2

THE PERFUMERY

Your olfactory journey will take place in our private perfumery behind the shop at 89 Jermyn Street. In this same room, nine generations of the Floris family have created fragrances dating back to the year 1730.

STEP 3

THE LEDGERS

By having your fragrance created by Floris, your custom fragrance formula will be securely archived in the Floris ledgers, started by our founder Juan Famenias Floris and dating back nearly 300 years, for you and your future generations to reorder.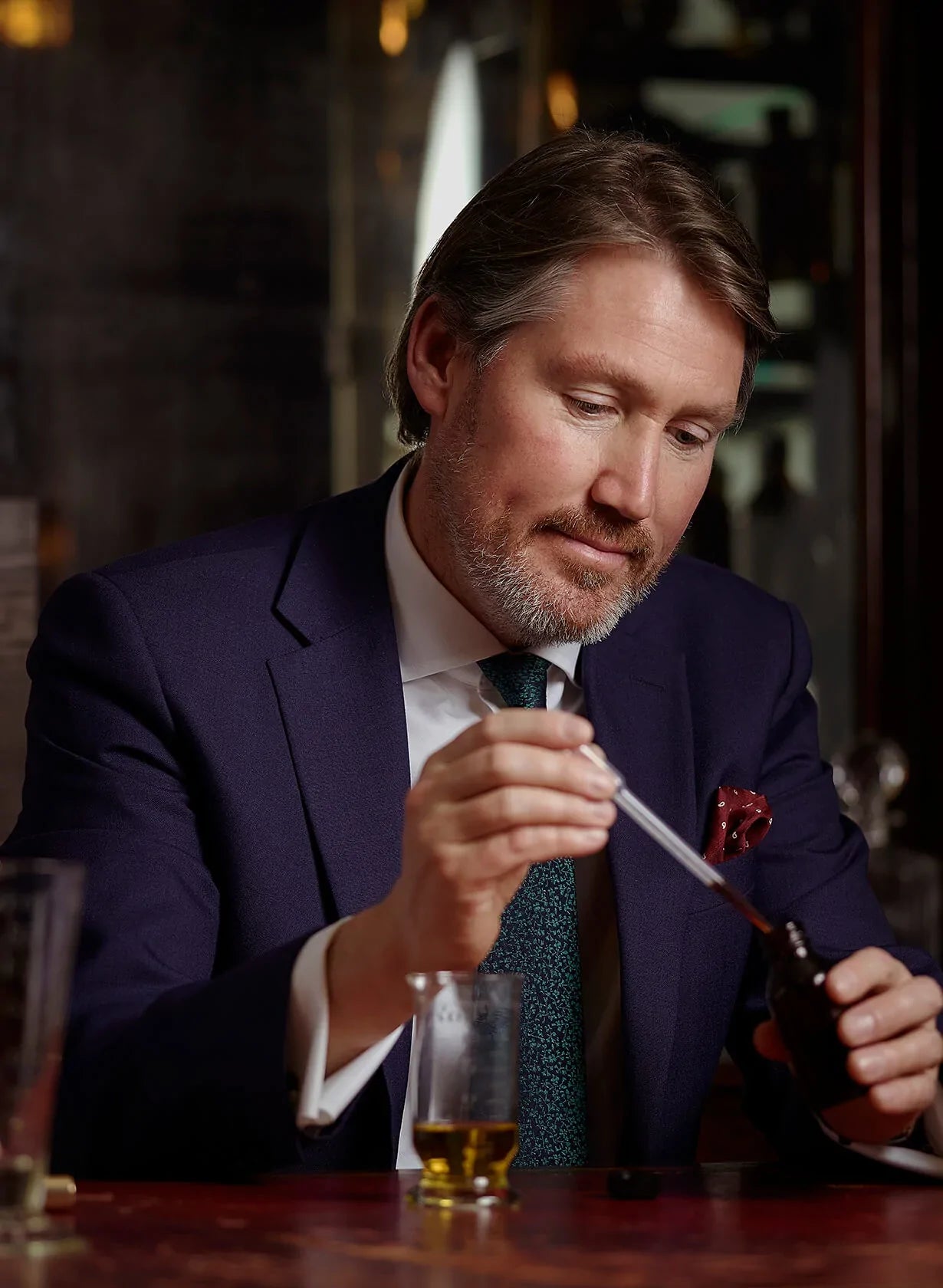 BESPOKE SCENT
Your perfume experience will begin with a welcome from a member of the Floris family, who will give you a short overview of the history of the company. Then, one of our in-house perfumers will lead you through our collection of fine fragrance bases, helping you to explore and determine the chosen direction of your fragrance profile. Our perfumer will then work on adapting the scents based on your individual tastes and preferences to craft two custom-made blends which will be sent to you to experience at your leisure.
Take the luxury of time to fully immerse yourself in the unique identities of the two fragrances and at the second appointment, your feedback will be used to start refining the scent. At this stage, you will begin to explore the heart and top notes of your fragrance, from which will be created two more bespoke scents which again will be sent to you to trial from the comfort of your home.

At the next appointment, the final flourishes will be made to your custom fragrance and your bespoke blend will then be poured into an engraved Floris bottle and hand labelled with a unique name chosen by you and will be presented in a Floris luxury gift box with an accompanying certificate of provenance detailing the fragrance notes contained within your fragrance.
"I AM CONTENT... NOT JUST BECAUSE THE RESULTANT PERFUME IS COMPLEX... BUT BECAUSE THE INGREDIENTS REALLY DO HAVE A PERSONAL SIGNIFICANCE. THE LAVENDER FROM MY MOTHER'S GARDEN, THE ORANGE BLOSSOM FROM A LONG-GONE HOLIDAY IN ANDALUSIA, THE MUSKINESS OF DISCOVERING RARE OLD BOOKS AT UNIVERSITY – SOMEHOW ALL INTO ONE ENGRAVED BOTTLE."
ALEKS CVETKOVIC - HANDCUT RADIO
READY TO BOOK?
A unique opportunity to create a your own perfume here in the centre of London and learn about fragrance creation from the oldest privately owned family perfumers in Britain. There are a few ways in which you can book our Bespoke Fragrance Customisation experience.
BUY NOW

Purchase now and choose to book your appointment later, instructions on how to do so can be found in the gift box.

ADD TO BAG | £550.00

BUY NOW | CALL BACK

If you already know when you would like to book your appointment or want to find out our available dates, book now and request a call back.

ADD TO BAG | £5,000

CALL BACK

If you would like to find out more about our Bespoke services, request a call back from one of our friendly customer services team.

Request
MORE INFORMATION
ENGRAVING

Please allow an extra 3-10 days for delivery if you choose to have your bottle engraved.

6 BOTTLES

Add a travel size 50ml bottle of your bespoke scent for an additional £80.

REPLENISHMENT

Replenishment orders of your bespoke scent take up to 2 weeks and can be ordered online or over the phone.

BRING A GUEST

You are very welcome to be accompanied to your appointment by up to two guests.
BESPOKE FRAGRANCE EXPERIENCES
Booking for yourself and a loved one or looking for a wedding gift? Have you considered our 'Together' Bespoke Customisation, a chance to create two unique eau de parfums. Or for the complete fragrance experience, explore our Bespoke Perfume Design service.