Quietly and meticulously composing a symphony, a perfect balance between art and science. Our elegance is borne from experience not artifice.

Made in Britain, using the finest essential oils and essences gathered from around the world. 

Discover the skill and artistry that goes into the creation of a Floris fragrance. It's a skill that has been passed down for 9 generations.
PROVENANCE & TRACEABILITY
Our Commitment
We have always sourced the finest raw materials for our compositions. All of our absolutes and essential oils are sustainably sourced from our extended family of long serving suppliers who strictly monitor the grade of each crop to ensure their upmost quality.

Using a high proportion of natural ingredients seamlessly fused with a pallet of highest quality man made molecules used for their ethical and environmental benefits, as well as for their artisanal spectrum, our perfumers blend alluring creations filled with emotion, character and personality.

We maintain short supply chains to maintain traceability. Many of our composisitions are built around a single central note philosophy. Neroli | Bergamot | Oud | Rose. When we are creating a fragrance that is built around this singular natural concept where possible, we will go direct to the source of farming to secure a direct traceable line to the origin material.
Nearly 300 years ago, Juan Famenias Floris created his first fragrance and recorded the formula in a large leather bound book. He continued to craft individual blends for his distinguished customers and with each new fragrance, the original formula was handwritten in this very book. For almost three centuries these recordings, along with the many more that followed, have been meticulously cared for in the perfumery at 89 Jermyn Street and have been handed down through each generation of the Floris family, providing inspiration for the unique Floris fragrances created today.
"WE COMPOSE OUR FRAGRANCES IN LONDON IN THE SAME ROOM MY FATHER DID, AND HIS FATHER BEFORE HIM."
EDWARD BODENHAM - 9TH GENERATION PERFUMERY DIRECTOR
GENERATION TO GENERATION
Our elegance is borne from experience not artifice
The perfumers craft cannot be learnt from books.
It is a transformation developed meticulously, drop by drop, through experience and instinct.

Whilst maintaining a deep respect for our heritage we are forward thinking in our fragrance creation and are often inspired by new experiences that relate to the present day and resonate with our current culture. Creating emotions by carefully painting an invisible picture with our pallet of fragrance oils, finding the perfect balance of materials. Often we approach our craft in a way of composing a piece of music, sharing the same language we bring together 'top notes', 'heart notes' and 'base notes' to complete our creations.
"I STRONGLY FEEL THAT BECAUSE WE CONTINUE TO COMPOSE THE FRAGRANCES IN THE SAME ATMOSPHERE AND SAME SURROUNDINGS IN WHICH THEY HAVE ALWAYS BEEN CREATED, THERE IS A CERTAIN ENERGY OR MAGIC THAT GOES INTO EACH CREATION AND MAKES IT UNIQUELY A FLORIS SCENT."
EDWARD BODENHAM - 9TH GENERATION PERFUMERY DIRECTOR
CONSERVATION
Protecting Traditional Methods
Our perfumery team create all of our fragrances at our perfumery 89 Jermyn Street carefully using essences measured in imperial fluid drams and ounces using the same antique glassware that our ancestors have been using for nearly 300 years.
OUR PERFUMERY TEAM
The House Of Floris
Today our in house 'nose' and 9th generation of the Floris family, Edward Bodenham is based at the Jermyn Street shop, and with his team of perfumers, Penny Ellis and Nicola Pozzani develops all our fragrance creations, and runs the bespoke service that allows customers to create a tailored scents just for them. We are unique in that our fragrance development still take place at our home on Jermyn Street where we are able to keep our creative process as close the customer as possible.
"IT'S QUITE A PERFECTING JOB; A TINY DROP REALLY MATTERS...YOU NEED TO HAVE THE RIGOUR OF SCIENCE BEHIND YOU."
PENNY ELLIS - BESPOKE PERFUMER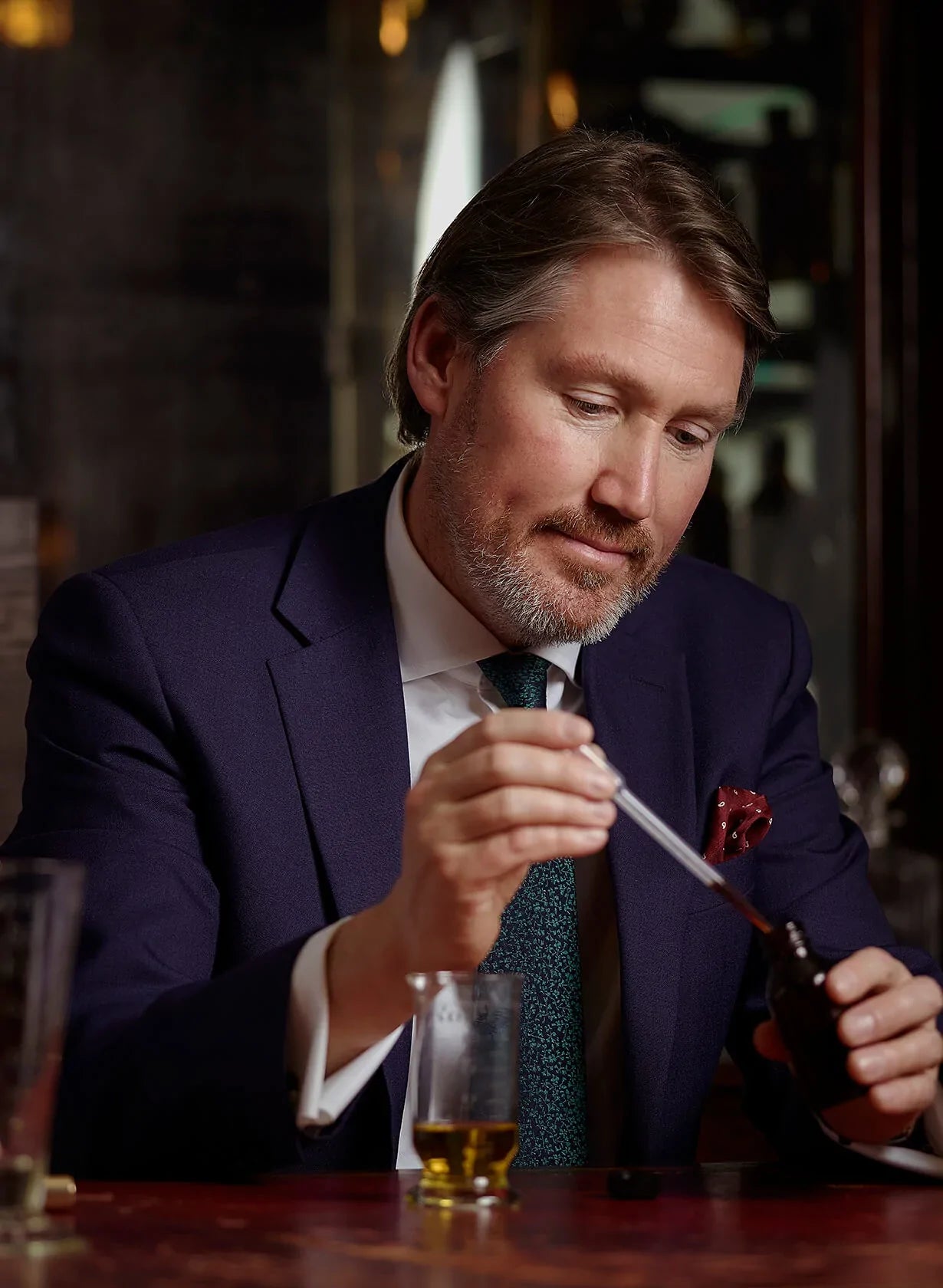 PERFUMERS DNA
A Family Business, Looking to the Future
In the recent history of Floris, Edward has been focused on creating a perfumery team that embraces the artisanal heart of Floris's perfumery heritage, but which finds new boundaries and ways of building on the success of our ancestors.

Our catalogue of fragrances has stood the test of time. Each perfume has is meticulously formulated and contains the finest ingredients. What has been crucial in developing the in-house team is that the entire creative process starts within our perfumery at 89 Jermyn Street, London. As Edward, Penny and Nicola also spend much of their time making bespoke fragrances for our customers and private clients, they are very tuned into people's individual tastes. The team have been working together for over 5 years and have a strong understanding of what makes Floris fragrances special, and the time needed to develop their craft.

When a composition is complete, from time to time we hand-pour a small number of bottles within our perfumery, to explain the creative inspiration and share the work with our close customers. When we launch a product into the main collection, we work in very close partnership with our long trusted suppliers and manufacturers in the UK. These are relationships setup by our chairman John Bodenham and his father Michael Bodenham over 30 years ago, so we are able to have complete confidence in everything we release into the range.
"FRAGRANCE IS INVISIBLE, BUT IT HAS THE POWER TO EVOKE OLD MEMORIES AND SHAPE NEW ONES. WHEN I BLEND A BESPOKE PERFUME, IT MAY ONLY TAKE A FEW HOURS, BUT IT CAN STAY WITH YOU FOR A LIFETIME."
NICOLA POZZANI - BESPOKE PERFUMER