A unique opportunity to create your own bespoke perfume, our Bespoke Fragrance Customisation is an enjoyable 2-hour perfume experience in London at the very heart of where fragrance was born in the city nearly three centuries ago. The chance to create a scent for a special event or a perfect gift to mark a milestone occasion. 
BOOK NOW | £550
A SIMPLE GUIDE
STEP 1

THE BESPOKE BOX

Prior to the session you will receive a beautifully presented gift box containing your engraved 100ml bottle, or ready to gift to the lucky recipient. We ask you to bring this bottle with you or you can collect from the shop on the day of your appointment.

STEP 2

THE PERFUMERY

Your olfactory journey will take place in our private perfumery behind the shop at 89 Jermyn Street. In this same room, nine generations of the Floris family have created fragrances dating back to the year 1730.

STEP 3

THE LEDGERS

By having your fragrance created by Floris, your custom fragrance formula will be securely archived in the Floris ledgers, started by our founder Juan Famenias Floris and dating back nearly 300 years, for you and your future generations to reorder.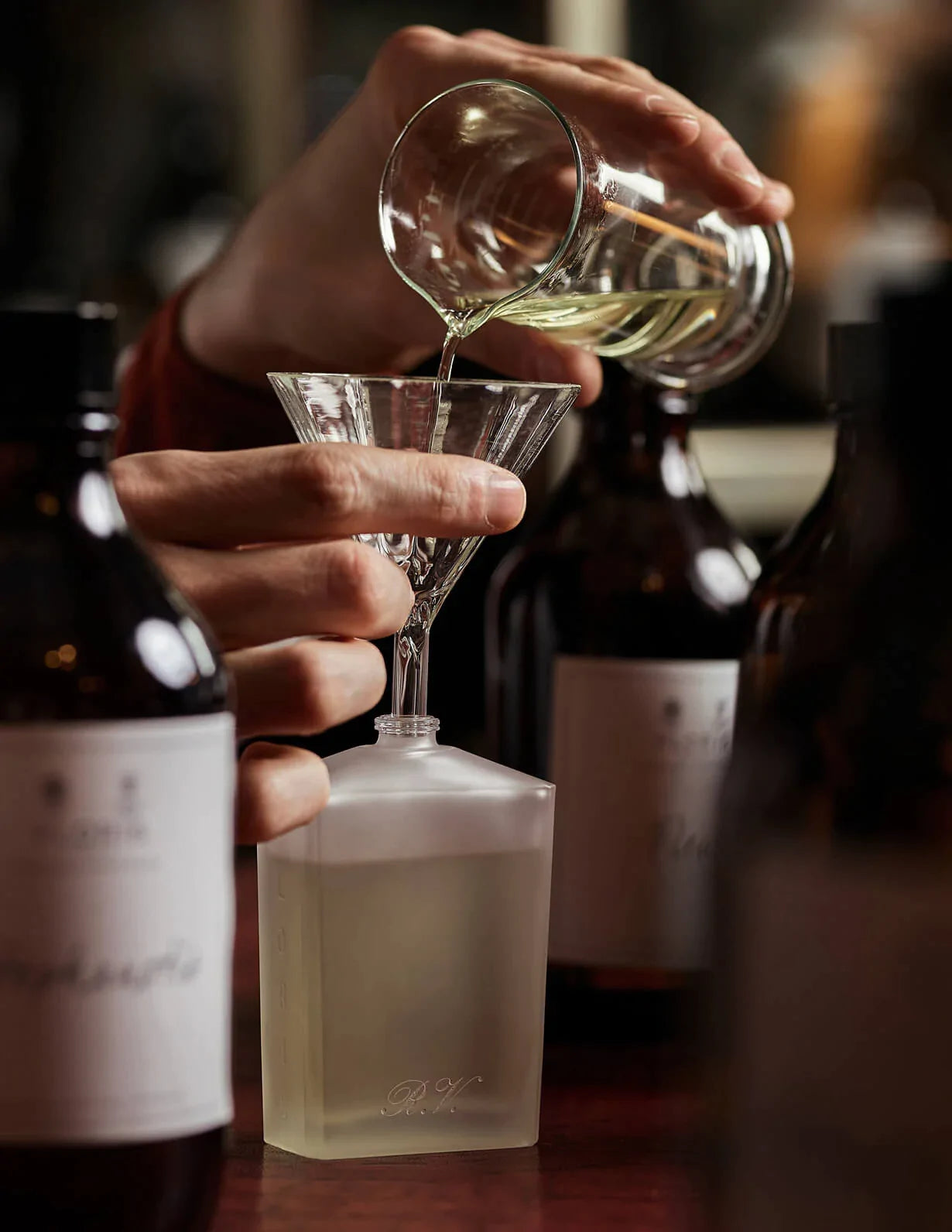 BESPOKE SCENT
Our bespoke service is unique and personal to each of our guests.

Our perfumers take into account your personal understanding of fragrance and the scent you wish to create. Sip on glass of Pol Roger Champagne or a cup of tea or coffee during the appointment, which will first begin by choosing from a wide selection of fine fragrance bases which represent 300 years of perfumery heritage and cover a variety of different fragrance families. Once you have identified a fragrance direction, our perfumer will work with you to add new accords to compliment your taste and refine your composition until your bespoke scent is complete.

At the end of the session, your fragrance will be poured into the 100ml bottle that you have previously received and named on a hand-written label and signed by our perfumer for you to take away with you.
"IT WAS AN EMOTIONAL, IMMERSIVE EXPERIENCE – AND FANTASTIC VALUE. FOR ANYONE THAT TAKES AN INTEREST IN BESPOKE, CRAFT AND PROCESS, I CAN'T RECOMMEND IT HIGHLY ENOUGH."
SIMON CROMPTON - PERMANENTSTYLE.COM
READY TO BOOK?
A unique opportunity to create a your own perfume here in the centre of London and learn about fragrance creation from the oldest privately owned family perfumers in Britain. There are a few ways in which you can book our Bespoke Fragrance Customisation experience.
BUY NOW

Purchase now and choose to book your appointment later, instructions on how to do so can be found in the gift box.

ADD TO BAG | £550.00

BUY NOW | CALL BACK

If you already know when you would like to book your appointment or want to find out our available dates, book now and request a call back.

ADD TO BAG | £550.00

CALL BACK

If you would like to find out more about our Bespoke services, request a call back from one of our friendly customer services team.

Request
MORE INFORMATION
ENGRAVING

Please allow an extra 3-10 days for delivery if you choose to have your bottle engraved.

TRAVEL SIZE

Add a travel size 50ml bottle of your bespoke scent for an additional £80.

REPLENISHMENT

Replenishment orders of your bespoke scent take up to 2 weeks and can be ordered online or over the phone.

BRING A GUEST

You are very welcome to be accompanied to your appointment by up to two guests.
BESPOKE FRAGRANCE EXPERIENCES
Booking for yourself and a loved one or looking for a wedding gift? Have you considered our 'Together' Bespoke Customisation, a chance to create two unique eau de parfums. Or for the complete fragrance experience, explore our Bespoke Perfume Design service.